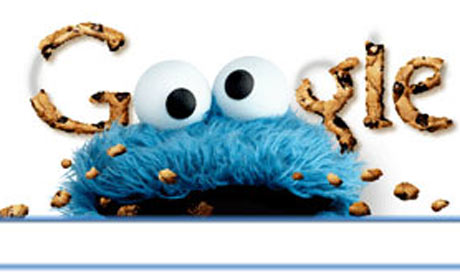 The US children's TV show Sesame Street has been paid the ultimate compliment of being featured in different Google doodles in different regions.
Sesame Street has earned its place in the Google hall of fame on account of celebrating its 40th birthday.
While the UK initially appeared to have been ignored - its homepage featured Wallace and Gromit celebrating their 20th birthday instead - it has now been brought in from the cold, with a doodle of the Cookie Monster having apparently taken a bite out of a Google logo. (Made out of cookies, naturally.)
The US and Canadian Google homepage features the distinctive spindly legs of Big Bird, and other characters are in the spotlight on other countries' homepages.
The popular television series actually celebrates its birthday on 10 November, when there will be an anniversary show featuring US First Lady Michelle Obama.
New York City has proclaimed 10 November "Sesame Street Day", and will announce a temporary street naming (at Columbus Avenue and 64th Street) in honour of the programme. Sesame Street: A Celebration of Forty Years of Life on the Street, and Street Gang: The Complete History of Sesame Street are the latest additions to the literary.
The show is now broadcast in more than 140 countries and has won 122 Emmy awards.
Crediy News
http://www.guardian.co.uk/technology/blog/2009/nov/05/sesame-street-google-doodle